"
Right now
, we have 'em stored, but we're going to have to move the ones in the pecan warehouse before the end of the summer. Our hope is to keep 'em together, but we need help. I can't store and maintain 30 vehicles. "If someone would donate a good secure building and pay rent and utilities, we would probably start getting donations to keep it up. We've got a real opportunity to so something important and we don't have a lot of time to make decisions." The road crews were scheduled to begin construction on the hill country property on Feb. 6, but the deadline has been extended by two weeks.

"This is important," he added. "I don't think you can go anywhere in Texas and find 30 horse drawn vehicles. And you can drive any one of these." According to Shelton, the owner of the vehicles learned about him and his passion for carriages and wagons after his open house, the last weekend in November. "She saw and article about the open house in the GVEC Review," he said. "She wanted to come down but couldn't. It was so cold and windy. She called about two weeks ago and wanted to come down. She was pretty persuasive, so I agreed to meet her her and took her through my shop where I had my wagons. As she looked at the wagons she seemed like she was thinking about something."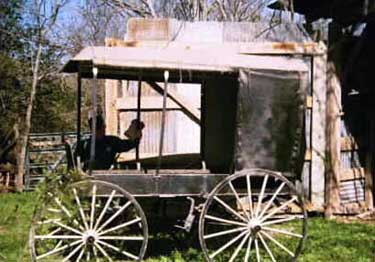 Finally, she told Shelton what was on her mind. "In the 1940s, her dad spent years collecting wagons and buggies. She wanted me to take a look." He had to find someone to take his place on call with GVEC, but he eventually made it to the woman's hill country property. "The place was nothing but solid cedar brush. We started through the property and there was one little shed after another. Cedar trees four or five inches in diameter were growing through the doors so that you had been inside any of the sheds since the '40s." He was amazed by what he found.

Even the property owner didn't realize the extent of her father's collection. "There were 17 vehicles in all: three wagons, one ice wagon, two gigs (one-horse carts), and 11 buggies." They also discovered a shed containing wagon and buggy parts, and antique farming equipment. "I told her it was like being buggy heaven," said Shelton. "We both broke down and cried."

Most of the vehicles were collected right after the depression, when people were trading in their carriages for Model T Fords. Over the past several days, Shelton, assisted by Oscar Duncan, Dick Collins, and Harold Reeves, have proceeded to move "buggy heaven" to Gonzales. Anyone who would like to help Shelton and his new friend from the Hill Country preserve this important collection of turn-of-the-century vehicles can call 830-672-3609. Or visit Shelton's website: www.texaswagonworks.com